Twitter influencers opine monkeypox vaccine availability a global challenge
Monkeypox has been declared as a public health emergency by the US and WHO, as it has spread to 70 nations with over 60,000 cases globally. Experts demand quick access to vaccines to contain its further spread and help patients recover quickly. However, Twitter influencers opine that the availability should not be like COVID-19 vaccines, where western nations were preferred over other nations. In line with this, discussions around monkeypox related to vaccines among the Twitter influencers spiked in the first week of August, reveals the Social Media Analytics Platform of GlobalData, a leading data and analytics company.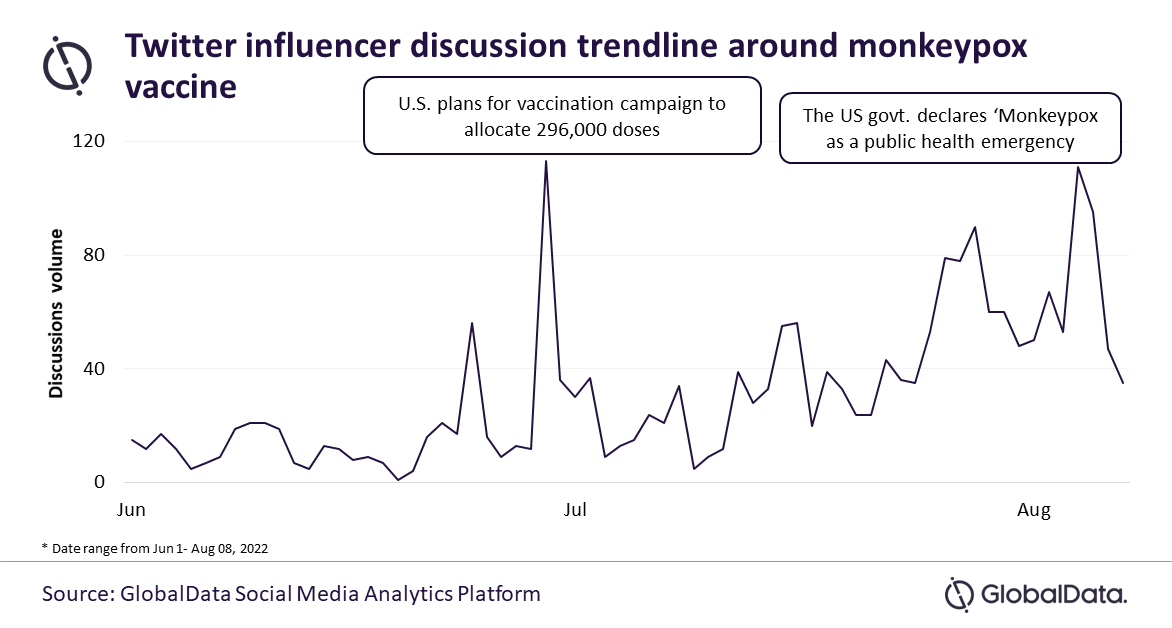 The highest rise in the influencer discussions was noticed at end of June, when the US Department of Health and Human Services announced a vaccination campaign to arrest the spread of the monkeypox virus by making nearly 300,000 doses available and assured the availability of another 1.6 million doses.
Smitarani Tripathy, Social Media Analyst at GlobalData, comments: "Most of the Twitter influencers have raised their concern on the availability of monkeypox vaccine globally as the western countries have queue-jumped to other countries where the disease has been endemic for years. They suggest equality for the availability of vaccines therapeutics and diagnostics globally by which monkeypox can be avoided."
GlobalData's Social Media Analytics Platform captured a few popular influencer opinions on monkeypox vaccines:
Matthew Hodson, Executive Director at aidsmap, opines vaccine access a global challenge
"Access to the #monkeypox vaccine is a global challenge. The frustration of those affected by the recent Western outbreak who are trying to be vaccinated should not obscure the fact that the West has queue-jumped countries where monkeypox has been endemic for years."
"Let's not make the same mistakes we made with #COVID19. We must have #equity for #vaccines #therapeutics and #diagnostics globally for #Monkeypox. This is the only way we will control the spread of this virus."
Lawrence Gostin, Director of O'Neil Institute, says we should not split doses to address supply shortage
"HHS announces it will address #monkeypox vaccine supply shortage by getting 5 doses out of a vaccine vile via a different administration. The big question is what the science is behind this dosing strategy
Rogtil Ford, Individual Analyst, feels production remains a concern
"Time has slipped away to stop monkeypox. I am very concerned about school starting and college dorms. It is going to spread before they can make enough vaccines."